I have been reflecting on how much we as humans are prone to bias, whether is it conscious or unconscious. In a 2018 post looking at learning pathways and bias I broadly addressed some aspects of cognitive bias and how it impacts on our subjective understanding of ourselves as individuals.
When I tell people that one of the areas of behaviour I am drawn to is bias, quite often they get confused with prejudice. Now bias as a form of prejudice is quite often a conscious form of bias but not always. Anyway, that is a post for later. What I am interested in is how unconscious biases led us to make poor decisions. These are the kinds of biases that affect our cognitive ability to make appropriate choices. These sorts of cognitive biases are also the challenge for policy makers, which I alluded to in my earlier post.
Helping citizens make to make better decisions through a greater understanding of human behaviours is an area which has enriched the area of government policy development in recent years. This focus on decision making addresses how humans are not always rational in their process of making choices.
This irrationality is not easy to unpick, hence the reason why public sector policy is exploring methods like Nudge and EAST to support policy design. EAST stands for Easy, Attractive, Social and Timely and Nudge theory aligns well to this kind of approach. The UK Behavioural Insights team says that "Though we do not claim that EAST is a comprehensive summary of all there is to know about behavioural science, we do think that for busy policymakers, the EAST framework is an accessible, simple way to make more effective and efficient policy."
Simply speaking, these methodologies are popular because they rely on guiding decision-making by making things attractive and easy. However, this is where some of the issues lie – people don't always do what is fast and easy – and quite often this is where biases come into play.
This diagram below looks at how a range of biases impact the decision making process. These particular biases are ones we all experience as we navigate the world. For example, Framing bias refers to the observation that the manner in which data is presented can affect decision making. The most famous example of framing bias is Mark Twain's story of Tom Sawyer whitewashing the fence. By framing the chore in positive terms, he got his friends to pay him for the "privilege" of doing his work (Robinson 2016).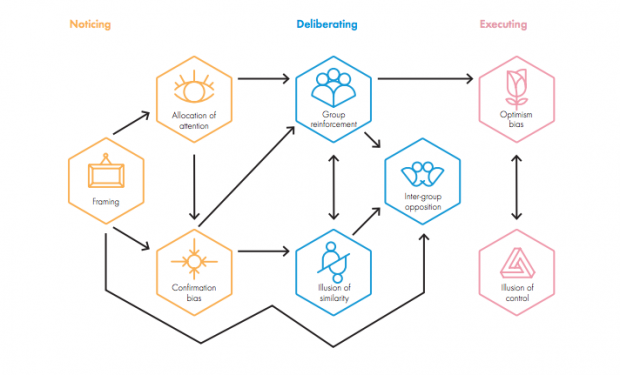 There are countless ways that that decision process could be articulated using different kinds of bias, which leads to the importance of tailoring policy to 'fit' the need of the impacted community / individual. When one examines "Lessons Learnt" from programs regardless of whether they are delivered by NGOs, business or government you will see a pattern emerge. This pattern outlines that in the policy development phase that there was not a nuanced understanding of the impacted parties. This come as the result of many things, not least a 'one size fits all' approach to problem solving which is magnified by biases held by the designers of the policy (which are often invisible to them as the policy intervention is being designed). Just to give an idea of how complex this array of bias is, I am sharing the Cognitive Bias Codex again. Now just imagine that many choices impacting on the policy design process!
Ben Crothers' post in Atlassian presents a good argument about how we can't escape from our own biases but we can be more aware of them. He puts forward 5 biases which impact on our decision making processes and all of them are great examples of biases that impact policy design.
So, how can we avoid designing policy that does not have the desired impact on the ground? This is a great question. I am a huge fan of participatory design as a means of both empowering the affected community as well as creating policy interventions which lead to successful program / project delivery. The work of Elizabeth Shove's work on Practice Theory is very useful in gaining an understanding of this field. A subject for a future post 🙂
References
APSC (2018) Unconscious bias
Ben Crothers (2019) 5 cognitive bias examples and how to avoid them in decision-making Atlassian
Owain Service, Michael Hallsworth, David Halpern, Felicity Algate, Rory Gallagher, Sam Nguyen, Simon Ruda, Michael Sanders with Marcos Pelenur, Alex Gyani, Hugo Harper, Joanne Reinhard & Elspeth Kirkman. (2014) EAST Four simple ways to apply behavioural insights https://www.bi.team/publications/east-four-simple-ways-to-apply-behavioural-insights/
Berentson-Shaw, J. (2017) All policy is bias, so what can we do?
Donaldson, D. (2018) Making better decisions: takling the biases we all hold
Dwyer, C. (2018) 12 Common Biases That Affect How We Make Everyday Decisions
Evidence-based Policy Collaborative (2017) Principles of Evidence-Based Policymaking
Jeffrey D. Robinson, (2016) Chapter 12 – Using Blind Reviews to Address Biases in Medical Malpractice, Editor(s): Aaron S. Kesselheim, Christopher T. Robertson, Blinding as a Solution to Bias, Academic Press, 2016, Pages 181-193,ISBN 9780128024607, https://doi.org/10.1016/B978-0-12-802460-7.00012-7. (http://www.sciencedirect.com/science/article/pii/B9780128024607000127)
sanjansabherwal (2018) Bias-busters: who you gonna call?
Sasse, T., (2018) Government must tackle bias in decision-making
The Economist: Intelligence Unit (2017) Overcoming bias and objectivity in policy making
Behaviourworks (2019) Wheel of bias