It has been some months since we went and checked out Fiona Hall's exhibition from the Venice Biennale Wrong Way Time at the National Gallery of Australia. This article has sat as a draft since May, when we were one of the first to see this incredible exhibition.
I have loved Hall's work for many years, having first seen Paradisus Terrestris in the 1990s. Her ability to blend conceptual issues about environment and contemporary life through her detailed sense of observation and almost scientific approach to collecting and categorising materials, demonstrates a mind that find the connections between worlds. Her layering of narrative contexts and meaningful use of materials presented a creative complexity that I found both thought-provoking as well as visually appealing.
I think for artists, scientists, all sorts of creative thinkers, the world is an ever-changing place, as troubling as it might be in so many ways, there's always so many new things to be engaged by as well.
Sally Pryor in the Canberra Times writes that:
The works themselves are spectacular – the culmination of a lifelong habit of making and collecting, of thinking deeply about global politics, money and the environment, of questioning the giant ecosystems that humans have created.
What appeals to me greatly in Hall's work is her ability to demonstrate a scientific level of investigation. For example, her Leaf Litter works are beautifully drawn in intricate detail, reminding the viewer of the fragility of nature and the impact of our mass consumption.
Steph Harmon in The Guardian refers to Hall's interpretation of the Wunderkammer,  stating they are "cabinets of curiosities which originated in Renaissance Europe as a way of cataloguing the world." The series of bank notes stands as testimony of this – the different exhibits demonstrating similar themes  – dam projects, agriculture and bridges – all testament to the strength of the nation and its modernity.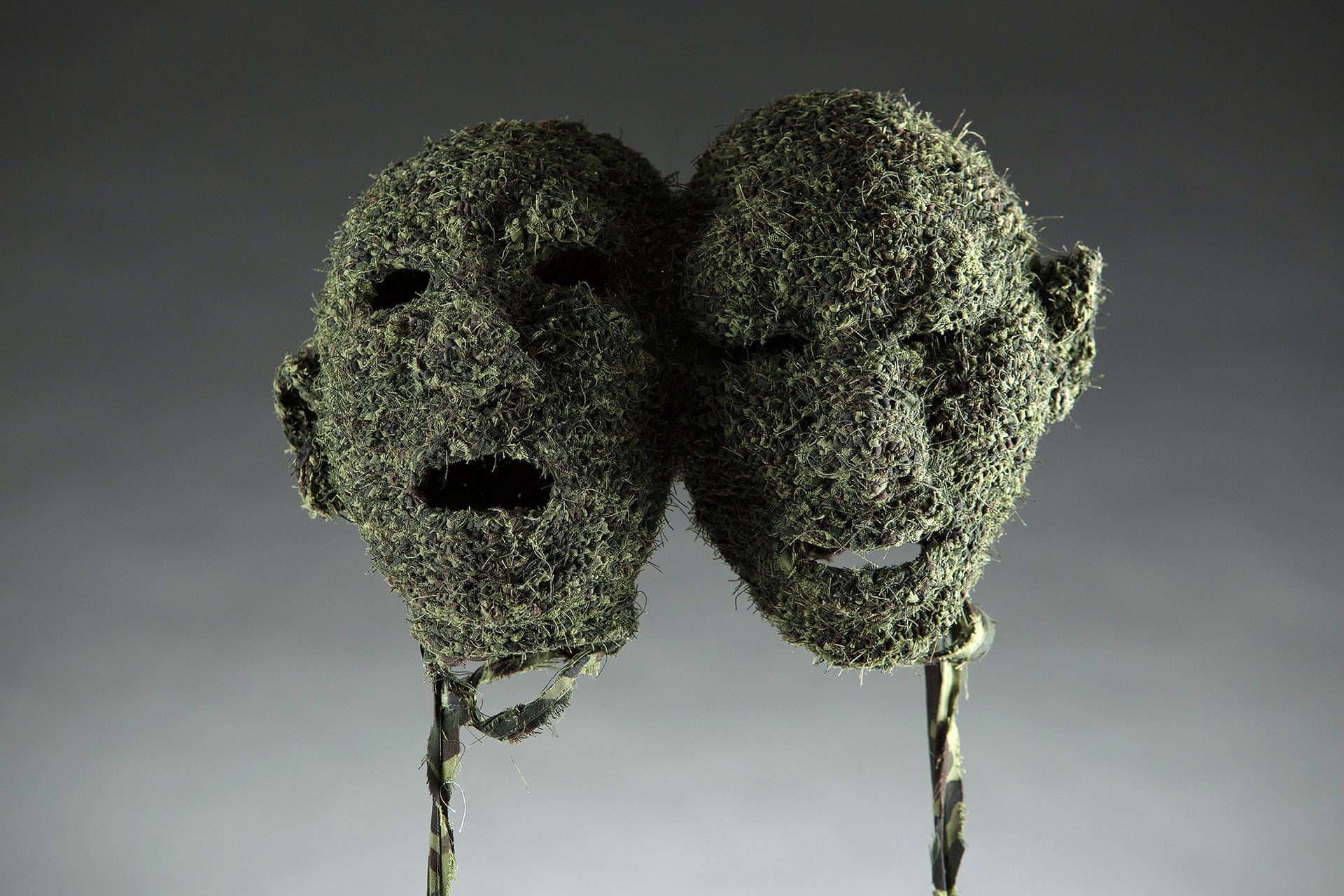 "All the King's Men" also reminds the viewer of the cost of nationhood though her use of materials – military uniforms, bones, teeth and boxing gloves. War lays waste and creates ghosts out of the soldiers signified through Hall's use of materials. This work packs a punch.
Interestingly Hall says:
I'm not someone who thinks that art necessarily changes the world… I would never have thought when I started out with my art practice that I would end up making work that was quite concertedly referencing some of these issues. But maybe as one gets older you gain a different kind of awareness, and the emphasis of your work changes.
It is worth adding that in December 2014, I was very lucky (read starstuck) to meet Fiona when we were in Kochi, hanging out with another wonderful artist and mutual friend Di Ball.
In conclusion, this exhibition shows her deep thinking, a sharp eye and a scientific mind, which is set on cataloguing both the natural world and how humanity is complicit in capitalising from it.